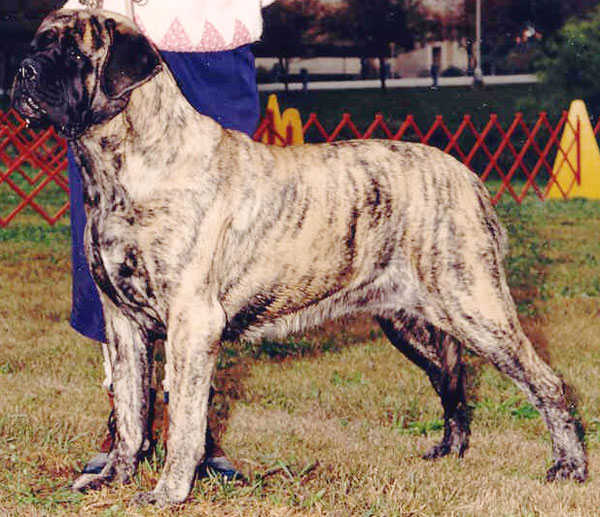 Queen Elizabeth Heavensgate, Our Beginning
I have been showing and breeding dogs for 20 human years or 140 dog years. I have gained my experience while working mostly with Rottweilers in the show ring. I was personally introduced to the breed of English Mastiffs when a friend of mine was in a position which did not allow her to devote her time and concentration to an unborn litter. From previous observations, I saw the Mastiff as a large and cumbersome dog, not something I would be interested in showing or having as a pet. However, I welcomed the challenge of whelping a litter. The mother was so good, sweet, and maternal. The whole experience from the time the mother arrived to the birth of the puppies was delightful.
There was one puppy in the litter that stood out. She was the prettiest female in the litter and was full of character, from day one she ruled the whelping box. She had the most adorable face with a white spot on her lower jaw. We called her Queen and fell absolutely in love with her. She was perfect in my eyes, and even if she was not, I'd still adore her. So, I asked my husband if we could keep her, he reluctantly said yes, from there our life together began.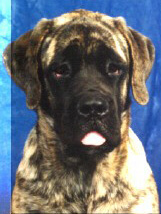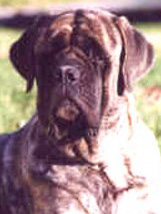 As her owner, I handled her to her Championship. With the help of my friends Marlene Blethen and Dr. Robin Smith, we were able to produce one litter of puppies from her (see pics below.) Out of the six puppies 4 are champions and one is pointed. All are loved by devoted families, and THAT makes me very proud. See them by clicking the photo below).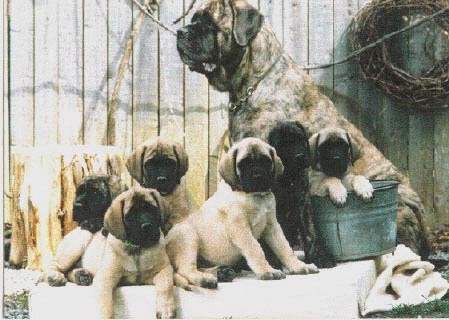 That is the beginning of CH. Queen Elizabeth of Heavensgate's history. She was 11 years old when she passed and still ruled our home with the beauty and character we saw in her when she was born. We are still moving forward in the Mastiff breed and are striving to produce sound family pets and show dogs. I am proud to share my dogs with you, so please, page through and enjoy.